Support
Scholarship Program
Scholarship for Privately Financed International Students
Enrolled during second year, 30,000 yen is paid per month. During the year, 360,000 yen is paid. From among the students who are enrolled for more than six months, students who have the highest grades in attendance rate are recommended to the Japan Student Services Organization.
YIC Kyoto scholarship
| YIC Kyoto Scholarship | Amount of money | Number of people | Period | Selection Conditions |
| --- | --- | --- | --- | --- |
| Award for Excellence | 10,000-30,000 | Elementary Pre-Intermediate Intermediate Senior Each level 1 | Each semester | Attendance rate is 95% Performance evaluations in all subjects are "A"s |
| Award for N1 | 30,000 | All successful candidates | During the school period | Only once |
| Award for Perfect Attendance | 5,000 | Applicable everyone | Each semester | Attendance rate is 100% |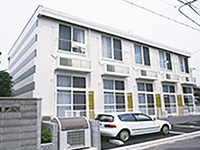 Housing
We introduce places where students can live peacefully. An initial cost of 100,000 yen at the
time of occupancy agreement (uniformly regardless of the rent fee) is required. This fee is paid together with school expenses at the time of admission procedures. The initial cost includes the price of a bedding set, room cleaning costs, occupancy month rent and fire insurance premiums.
Refrigerator, washing machine, microwave oven, bed, curtain, desk, chair, air conditioning and
lighting equipment have been installed.
Health care
①National health insurance:Those who live in Japan should be covered with Japan's National Health Insurance. This insurance allows members to receive treatment in the hospital at 30 % of the cost. Insurance premium: about 1,700yen/ month.
②Medical examination:We carry out medical examinations once a year on campus.
Part time job
When students acquire "Permission to engage in activity other than that permitted under the status of residence previously granted ", it is possible to have a part time job of less than 28 hours per week (8 hours per day during long vacation). However, the first two months after admission there is an adaptation period for students to become accustomed to the new environment, it is not possible to have a part-time work during this adaptation period.